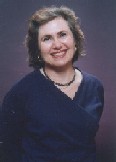 Dr Karin Geiselhart

Semester 1 2005 Lecturer in E-Marketing, Australian National University
2004 Produced report on the sustainability of rural teleservice centres for CTSA Australia, commissioned by the Board of Networking the Nation. see: The Future of Online Teleservice Centres http://www.teleservices.net.au/index.php
2002-2003 Initiated and ran Creative Canberra project for local broadband content development at the National Office for the Information Economy
2000-2002 Post-Doctoral Research Fellow in E-
Business, RMIT University, Melbourne
Dr Geiselhart's research interests include:
the role of new technologies in democratic forms of governance
community-based new media content creation
social marketing and accountability of government communications
the application of electronic commerce strategies to the non-profit sector
complexity theory as a conceptual framework for the role of new technologies in emerging forms of transnational governance.
Dr Geiselhart is a professional communicator and writer with experience in education, government, the private sector, and academia. She has worked with information technology in government from the late 1980s.
She has been an innovator of communication technologies in the public sector. She has an extensive background in communication and public affairs work, and a particular interest and background in the use of technology to improve communications, both within organisations and across community sectors.